At my firm we're using Veeam Backup & Replication, version 9 at the latest patch level. Last week I was asked to restore a file somewhere of a file server. The file was supposingly placed somewhere down a directory structure but it was missing on the filserver itself.
I started Veeam Backup & Replication and selected the Restore option. I selected the appropriate restore option, server and backup date. The Veeam Backup Browser window started and I started browsing to the folder where I expected the file to be. At a certain level Veeam Backup Browser window suddenly became unresponsive with a constant CPU usage of 25% or more. I tried several things to get by this situation which always started at approximately the same folder level. I checked the Veeam site if there were any new patches, I restarted the Veeam services, I even restarted the complete server but no improvement whatsoever..
I then contacted Veeam support with this question and they came up with a simple but fast solution. It seems that when using the Veeam Backup Browser window it will mount the selected backup into a folder on the backup server, c:\VeeamFLR. In this directory the mounted backup will show itself as a folder with the name of the selected server in it. Underneith that folder the server volumes will show themselves as folders, and so on. Using the standard Windows Explorer to browse the folder structure is way faster than using the standard Veeam Backpu Browser! Just look for the missing file, copy it to the desired location and close the Veeam Backup Browser. After closing the directory in c:\VeemFLR also will be removed. An example screen is shown below.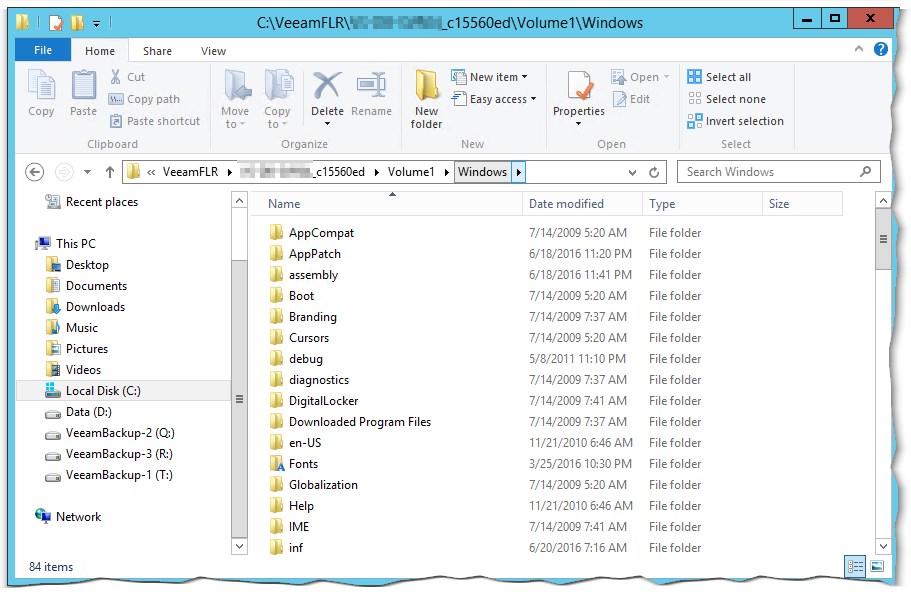 I hope anyone find this suggestion helpfull!
Anyway the file wasn't in the backup