This week I updated my Windows Server 2008 R2 based VMware vCenter Server installation. It's an installation with an embedded PSC, so the installation tool place on one Windows Server 2008 R2 server. On forehand I created a consistant VMware snapshot and database backups, in case upgrade should go wrong.
Man oh man, was I glad I made the snapshot and backups! During the installation all seems fine until step 5 of 5, importing data and starting the services. This error occurred: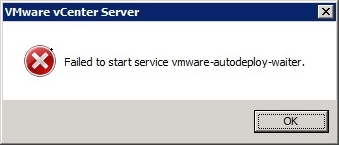 After contacting VMware support it turns out that somehow services were disabled for VMware vCenter. I cannot remember doing this but Ok, how to fix the issue. To check which services are running and which are not, follow these steps:


Open a command prompt as Administrator


Go to the directory %VMWARE_CIS_HOME%\bin (mind the drive!)


Execute service-control --status --all



You will see that certain services are not started, these should be checked if these are disabled or just set manually. To check this, follow these steps:


Go to https://vcenterserver:9443/


Log on as an administrator


Go to Administration, System Configuration, Services


Check all services to be at least automatic or manual



After checking all VMware vCenter Server services I restarted the installation and everything went as expected.
Let me finish by saying thanks to VMware support for helping me!
The author does not allow comments to this entry